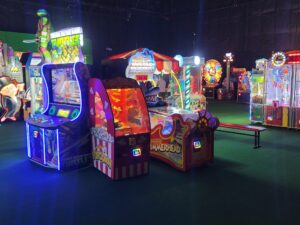 C'mon, admit it! Today's video games, regardless of their quality graphics and online gaming communities, just don't quite give you the same thrill as a good old arcade experience!
Come on out with your family to Funagin's and challenge each other to high scores on any of our dozens of full size arcade games. The lights, the noise, the joysticks. It's all part of the experience.
An arcade adventure is a perfect not-boring date night! And it'll keep the Scout Troop happy all weekend. Want to challenge co-workers or just give them something completely new and unique for team-building? Come to the arcade. Share your favorites with your kids and show them how it all started.
Having a birthday party? Learn more here.